The Allen Bradley 1391 series was first introduced in 1992 and is still widely used today.  Noted for its stout build and workhorse mentality, the 1391 series has machine owners holding on to them much longer than most legacy servo-automation equipment made by other companies.  And though they are obsolete, parts are still available and companies are supporting them through repair, exchange, and selling reman units.
The 1391 drives come in 2 versions,
in 2 versions, Series A and Series B.  Though they are functionally equivalent, the Series A logic boards cannot be used in Series B Controller.  But, the Series B logic board can be used in a Series A Controller.
The 1391 contains many of the standard features required in a servo system:
An easily removable Logic Board for easy inspection, troubleshooting, and diagnostics.
Transient voltage protected input.
A circuit breaker that opens all 3 AC leads in the event of a short circuit situation.
A 300V DC power bus supply with a shunt regulator.
A shunt regulator resistor to minimize energy generated by the motor during braking.
Velocity loop components that compensate or inertia.
A power line/DB contactor.
(3) Controller ratings.
UL listed.
The Allen Bradley 1391 also contains these user selectable options:
Torque or Current Amplifier Operation
Contactor Auxiliary Switch
External Shunt Regulator Resistor
The 1391 series includes these Catalog numbers (models):
TheThe following is what the nameplate nomenclature stands for on an Allen Bradley 1391: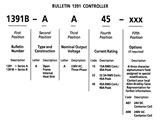 The 1391 Series drives are used with the 1326ab servo motor series from Allen Bradley.  The power supply is contained inside the unit, so there is no need for a separate one.  These units run for a long time and in harsh conditions, and when they do break down, they can be repaired and put back in a machine and run with further longevity.  It is also rare that one of these 1391 drives is damaged beyond economical repair.  The legend lives on!